Her er min utgave av Fetching ferdig. Jeg ble godt fornøyd med resultatet etter å ha gjort noen endringer fra mønsteret. Jeg har strikket flere runder med fletter nederst og har også strikket flere runder ribbestrikk over hånda (24 runder før tommelhullet). Øverst har jeg to runder med fletter i stedet for én, og i stedet for å felle av med picot-avfelling som i oppskrifta, strikket jeg de to første maskene i en 4-maskers ribbe rett sammen i avfellingsrunden for at pulsvarmerne skulle sitte litt tettere inntil fingrene. På tommelen plukket jeg bare opp 1 maske fra hver side slik at jeg fikk 15 masker og kunne forsette med ribbemønsteret på tommelen, i tillegg har tommelen fått en flette også.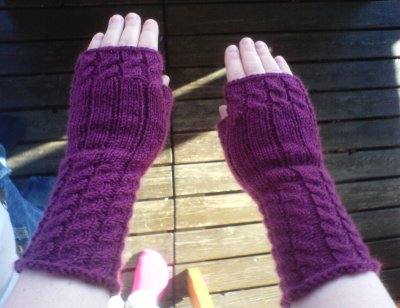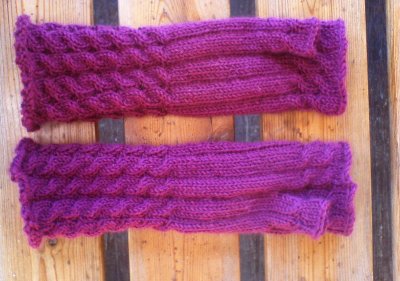 Yarn: Karisma from Garnstudio
Pattern: Fetching from Knitty (with some modifications)
Needles: 4.0 mm

I've finished my version of Fetching, and I'm quite happy with the result after doing some changes from the original pattern. I've knitted more rounds with cables in the beginning, and also more rounds with rib-pattern over the hand to make the wrist warmer longer. At the top of the wrist warmer I've knitted two rounds with cables, and instad of the picot bind off I did a regular bind off while I knitted the two first stitches of a rib k2tog, to make the warmer tighter around the fingers. I knitted only with 15 sts for the thumb so I could continue in the rib-pattern, and I also added a cable.