Teppet ble ferdig i løpet av påsken, og jeg ble godt fornøyd med resultatet (selv om det ikke er så lett å få tatt et bra innebilde som viser ordentlig hvordan det er). Slik rillestrikking er dessuten perfekt for å være sosial samtidig som man strikker. Det ble også to par babysokker, det er lett å bli hekta på å strikke disse siden de er så kjappe å strikke og fine for å bruke opp små rester. De lilla er strikka av restegarnet etter Fetching. Jeg strikka begge sokkene parallelt for å se hvor langt skaftet kunne bli, og for å få de lange nok ble det ikke garn igjen til knytinga:-) De blågrønne er strikka av en liten rest med nøstebarngarn, og jeg er stadig imponert over hvor drøyt det garnet er.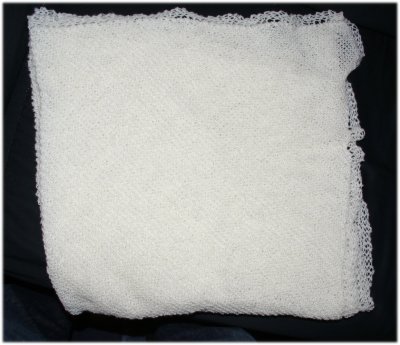 Yarn: Merino lambs wool from Nøstebarn
Pattern: From Nøstebarn
Needles 6.0 mm


Yarn: The blue yarn is merino lambs wool from Nøstebarn and the purple is Karisma
Pattern: Madam Møller babysokker from Nøstebarn (the blue pair) and a modification of this pattern (the purple pair)
Needles: 3.0 mm (blue) and 4.0 mm (purple)

I finished the baby blanket during the Easter holiday, and I am quite happy with the result. Knitting in garter stitch is also perfect for beeing sosial while knitting. I have also made to more pairs of baby socks. It is easy to get addicted to knitting these, since they are so fast and easy to knit, and perfect for using leftover yarn.