Her er starten på en gave til en gutt som er omtrent en måned gammel, og som jeg snart skal besøke. Babysokkene ble fort strikket på en kveld (halve jobben med Nøstebarn-garnet er å nøste det opp), og så har jeg planer om å strikke lue, og votter hvis det er nok garn. Så det er mine helgeplaner når det gjelder håndarbeid, i tillegg håper jeg å få strikka videre på babyteppet, og å få brodert litt på bunaden.
Ønsker alle som er innom en riktig god helg!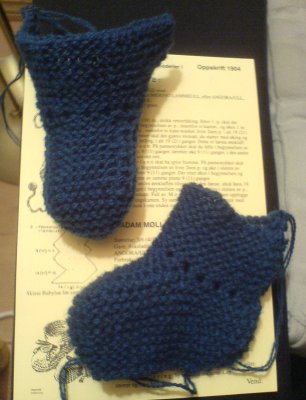 I have started to knit a present for a baby boy which I will visit next week. Just a very easy knitted set with socks, hat, and mittens if I have enough yarn. It is nice with this kind of knitting when I don't have time for larger and more complicated things, and I like the result as well, simple but nice. So my plans for the weekend is to finish this set, and I hope that I will have time to knit more on the baby blanket, and to embroider on the national costume.
I wish you all a nice and relaxed weekend!