Jeg lover at det er siste gangen dere ser bilde av denne genseren halvferdig, for jeg satser på å klare målet om å få den ferdig på søndag når VM på ski avsluttes. Her er bilde av forstykket, jeg er omtrent halvveis på det. Når forstykket er ferdig er det montering og trådfesting som gjenstår.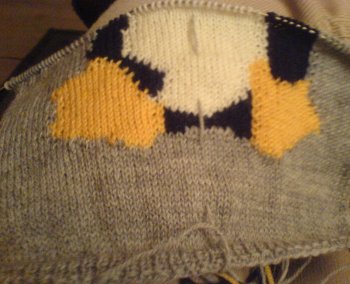 Siden det er starten på en ny måned i dag så kan det jo passe å lage en liste over halvferdige prosjekter jeg har tenkt å fullføre og nye jeg vil starte på i løpet av mars.

Gjøre ferdig babyteppe
Gjøre ferdig selbuvottene
Fortsette med det hakkede lappeteppet
Strikke voksejakke fra Nøstebarn
Strikke sokker i opalgarn
Strikke enda et par selbuvotter
Strikke gave til en baby
Strikke noe som vil matche linuxgenseren
Brodere videre på bunaden


I promise that this is the last time you will see this baby sweater unfinished. I have a hope that I actually will be able to finish it before the world championship in nordic ends on sunday. I am halfway through the front piece, and when that part is finished the only thing left is to sew the pieces together.
Since it is March 1st today I have made a list of project is will finish and new projects I will start this month.

Finish baby blanket
Finish selbu mittens
Continue to make squares for the afghan in tunisian crocheting
Knit baby jacket
Knit socks in opal yarn
Knit another pair of selbu mittens
Knit a gift for a baby
Knit something that mathces the linux baby sweater
Continue to embroider on the national costume