Kvart på elleve i dag satt jeg klar med garn og pinner, og da startskuddet gikk for sprint for menn i VM i skiskyting begynte jeg å legge opp masker til babygenseren jeg skal strikke i løpet av alle VM-ene som kommer på løpende bånd framover. Det er selvfølgelig VM-along på hobbyboden det er snakk om, og jeg skal strikke en babygenser med linux-pingvinen Tux på. Genseren blir en miniatyrutgave av en genser jeg strikket til min kjære for et par år siden.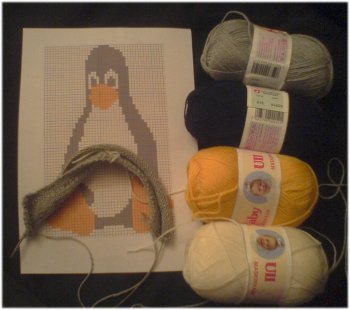 Ukens tema i TEMA er nostalgi, og hva passer ikke bedre enn å vise fram bilder av et par oldeforeldre og tippoldeforeldre. (Jeg skulle selvfølgelig ha scanna bildene, men scanneren er ikke tilkobla maskina for øyeblikket, og jeg er for lat til å gidde å gjøre noe med det). Bildene har jeg fått av bestemor, og de betyr mye for meg.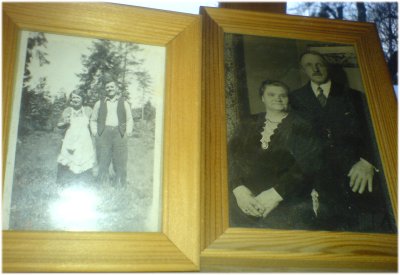 In the period from today and until March 4th there will be several world championships in winter sports. The world championships in biathlon startet today, and will be followed by championships in alpine and cross-country. So at Hobbyforum there was arranged for a world championships knitalong which started today, and the project you started on must be finished by March 4th. I've started to knit a baby sweater with the linux penguin, Tux, on the front. It will be a copy of a sweater I knitted for my husband couple of years ago. I've knitted approximately 4 inches of the back so far.
This week's theme is "nostalgia", so I show you photos of a couple of my great-grandparents and great-great-grandparents. I've got this photos from my grandmother, and they mean a lot to me.