Det har igjen vært litt stille her inne. Det har skjedd mye i livet ellers siden sist, vi har blant annet kjøpt oss leilighet! Vi gleder oss veldig til å kunne flytte inn i egen leilighet etter å ha bodd ca ett år i en leid leilighet der vi ikke har trivdes særlig. Jeg har lyst til å begynne å pakke med en gang, men overtakelsen er ikke før i mai, så vi må bo der vi bor noen måneder til.
Men innimellom alt dette så har jeg strikka på VM-prosjektet. Bakstykket og et erme er ferdig, og jeg har såvidt begynt på det siste ermet. Forstykket, som er det som er mest morsomt å strikke, har jeg spart til slutt:-)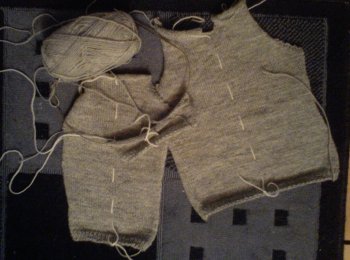 Det er forresten problemer med å legge inn kommentarer til postene her for tida (takk til nneedles som påpekte det), men skravlebrettet funker som det skal:-) Jeg har satt min bedre halvdel på saken, så forhåpentligvis blir det mulig å kommentere i postene igjen snart.

It has been quiet here for some days now, it has happened much in the real life lately. We have bought our own apartment, and I can't wait to move in there. But unfortunately we have to wait a couple of months before the current owners have moved out.
But I have done some knitting on the World Championship project. I have finished the back part and one sleeve, and I have started on the second sleeve. The front part is the most fun part to knit, so I have saved it till the end.