Det er travle tider her for tida, så det blir ikke tid til alt for mye håndarbeid. Men jeg har begynt på et babyteppe til mageboeren. Det er bare enkel rillestrikk, så det er perfekt til tv og til å være sosial med, og jeg synes det var deilig med et strikketøy nå som bare gjør seg av seg selv. Det er forresten første gang jeg prøver bambuspinner (ja, jeg må nok være den siste strikkeren her i verden som ikke har prøvd det før), og (som dere allerede vet) er de lette og behagelige å strikke med, så det kommer nok flere bambuspinner.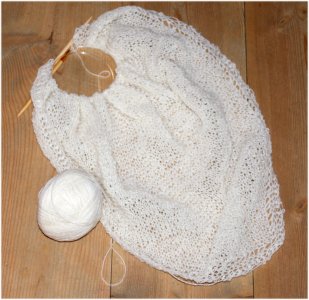 Ukens tema er hjerter. Det var ikke så lett å finne noen hjerter, men jeg kom på disse vinglassene vi har. Jeg liker de godt fordi de er så enkle, og hjertene gjør seg godt der.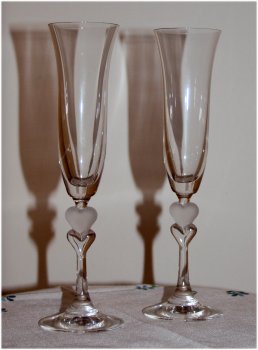 There are busy days here, so I don't have much time for knitting. But I've started with the first project for the baby, a baby blanket. Very easy garter stich, but it was nice to have such an easy project on the needles now, it almost knits it self, while I'm doing other things.
The theme of this week is hearts. I had some problems trying to find something with hearts, but then I remembered these wine glasses. I like them because they are so simple, and the hearts are perfect on them.