Hva gjør man når man fredag ettermiddag innser at man mangler en jakke eller bolero til kjolen man skal ha på seg i barnedåp halvannet døgn seinere? Jo, man leter rundt på garnstudio sine sider, finner en passende oppskrift, kjøper garn og begynner å nihekle for å bli ferdig. Jeg hekla denne boleroen, og den ble ferdig rund klokka to natt til søndag. (Den mangler en kant rundt med Vienna, men det kan være jeg synes den er like fin uten den kanten). Den er hekla i Cotton viscose, jeg likte godt glansen i garnet, men det var litt ekkelt å hekle med. Garnet er veldig løst spunnet så det fliser seg veldig lett (det var ihvertfall min erfaring:-). Ellers likte jeg godt fasongen på boleroen, selv om den godt kunne ha vært litt mindre (sånn er det når man ikke vet om man er medium eller large og safer med den største, så vil den i allefall passe…), men det kan reguleres en del med hvordan man setter nåla foran.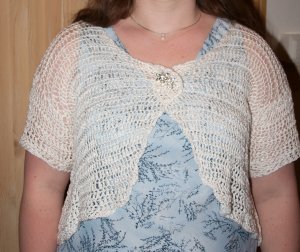 Jeg håper jeg blir tilgitt for å komme med ukens tema en dag for sent:-) Forrige ukes tema var prikker, så her er mine prikkete bilder. De første prikkene kommer fra en mamma-kittel (håper det er riktig ord, en slags forkle-aktig sak med ryggstykke som festes med knyting på innsiden foran og bak på ryggen, moderne på 70-tallet), denne sydde mamma da kun var gravid med meg. Jeg synes den er veldig morsom så jeg akter å bruke den bare magen blir enda litt større.
Og så er det bilde av vannmugga som konstant står framme på bordet. Jeg har et helt servise med det mønsteret, og jeg liker god fargen og mønsteret. Bruker det egentlig som et slags mellomfint servise, men siden jeg ikke har noen annen vannmugge er denne mugga i bruk daglig.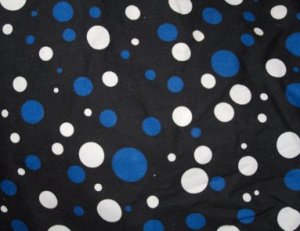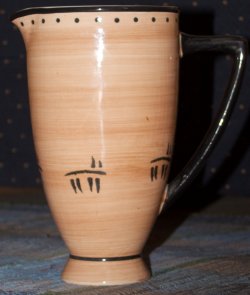 Bolero jacket and dots
What do you do if you friday afternoon realize that you need a bolero jacket for the dress you will wear at a baptism on sunday? I can tell that it is not easy to find this kind of bolero in shops in Norway in january. So I ended up finding a pattern (in norwegian) here, buying yarn, and then spend friday evening and the most of saturday crocheting as fast as possible. It was finished around two the night before, but I didn't have time for the crocheted edging in mohair yarn. I was quite happy with the result, even though the bolero could have been a bit smaller, but I can regulate this with the pin in the front.
Then there are the pictures for this week's theme (well, I am one day too late, so I mean last week's theme). The first picture is dotted fabric from a maternity top which my mother made when she was expecting me. The water pot (I am not sure if that is the right word for it) is always standing on our table. I have a whole china set with this pattern, but it is only the water pot which is in daily use. The rest of it is saved for when we are having guests.