Juleferien gikk som ventet alt for fort, og hverdagene er tilbake, men det er jo på mange måter godt å komme inn i sin vante rytme igjen også. Jeg har startet året med å melde meg på

Her skal vi for hver uke framover vise bilde av noe som har med ukens tema å gjøre, og denne uken er det striper. Så det dukker nok opp bilde av noe stripete her bare jeg får tenkt meg om litt først.
Ellers har jeg klart å holde meg unna alle knitalongene som startes for tida, er for øyeblikket litt lei av å lage det samme som "alle andre" og å binde opp hobbytida mi til bestemte prosjekter. Men det går nok over, og vips er jeg med i en knitalong igjen.

Så et par bilder tilknyttet jula. Først Jonny, søsters hund, avbildet i sin nye hundeseng (som egentlig er en katteseng siden Jonny ikke er stort større enn en katt). Senga kunne sikkert vært litt større, men den så allikvel ut til å falle i smak og Jonny ble observert sovende i den flere ganger. (Her er senga før toving)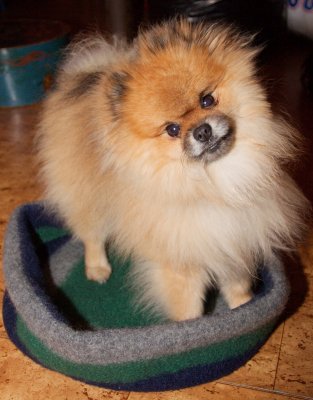 Og så en av gavene jeg fikk av min kjære, 50 Baby Bootees to Knit. Som tittelen antyder inneholder boka 50 oppskrifter på små, søte og morsomme babysko. Så nå skulle jeg ha nok av ideer til små "velkommen til verden"-gaver for en stund.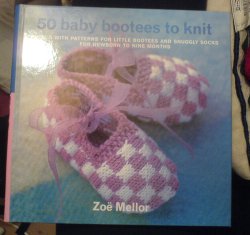 The Christmas holiday could have lasted a bit longer, but it is kind of nice to be back to the normal life too.
I signed up for something called THEME-weeks, each week has a theme, and the participants will show photos related to this theme each week. This week the theme is stripes, so I guess you will find photo of something stripy here soon, I just have to think a bit about what to photograph.
The little dog is my sister's dog named Jonny, inside his new bed which I made for him for Christmas. (It is really a bed for cats, but he isn't much bigger than a cat). The bed looked like this before felting. Jonny was not the only one getting presents for Christmas, I (among many other nice things) got the book 50 Baby Bootees to Knit, and the patterns are so cute. I should have enough ideas for small welcome-gifts for new babies for quite some time here.