Tida har flydd fort i siste, det har vært juleavslutninger, baking til julemesse og alt det andre som får tida til å fly i desember. Det har blitt litt tid til håndarbeid innimellom, jeg holder blant annet på med et hemmelig broderingsprosjekt. Men av det jeg kan vise fram så har jeg laget en nålbok inspirert etter "Tildas hus", planen er nemlig å lage matchende nålbok til de påbegynte heklenålsetuiene fra forrige post. Denne ble et testeksemplar til meg selv, og den har allerede vært flittig i bruk, fint å ha alle synålene samlet på ett sted, og så funker den bedre enn en nålpute der de mest spisse og tynneste nålene har en tendens til å forsvinne inni puta. Men jeg ble ikke helt fornøyd med fasongen, skal lage klaffen med hempa litt rundere i neste versjon.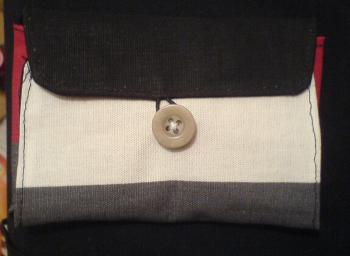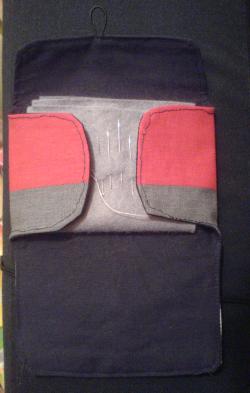 Jeg har også fått fylt de siste hjertene i dette julestoffet, disse ender nok under juletreet. Apropos det så har jeg visst ikke kjøpt en eneste gave enda…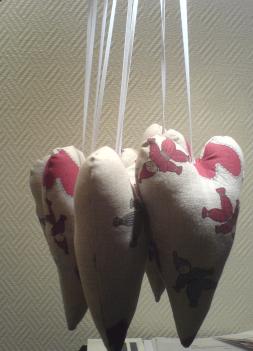 Time for a short update
The time is running away as it usually does in Deember. I'm working on some secret projects, but I have also finished the hearts from the last post, and I have made a needle book. The plan is to make matching needle books for the crochet needle cases I'm making, so this was the demo version which I will keep myself. (Inspired by the book "Tildas hus"). I have realized how very useful it is to have all the needles on the same place and I think the needle book works better than a pincushion, since needles have a tendency to disappear inside the pincushion. I will change the shape a bit for the next needle books, and I hope I will have time to finish these and the other gift project before Christmas.