I helga kom symaskina fram igjen, og det er litt gaveproduksjon på gang. (De som skal få disse gavene vet ikke om bloggen min så vidt jeg vet, så jeg tror det skal være trygt å vise det fram). Jeg hadde tydeligvis planlagt helgesyinga ganske dårlig for jeg manglet ting for å fullføre det jeg starta på. Det svart/rød/hvit-stripete skal bli en liten toalettmappe med matchende kleenex-mappe, her mangler det en svart glidelås for å kunne fortsette. Så er det Tilda-hjerter i julestoff, jeg fikk fyllt to og et halvt hjerte før jeg gikk tom for vatt. Det lilla skal bli heklenålsetuier som jeg også skal lage matchende nålmapper til, her mangler det lilla sytråd og to lilla knapper.
jepp, da er det bare å prøve å lage en litt mer komplett handleliste og ta en ny tur til sybutikken…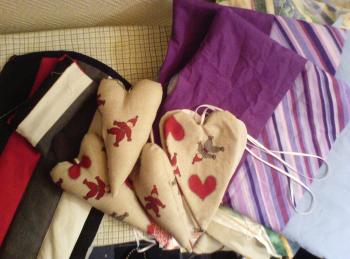 work in progress
I started to make som Christmas presents this weekend (the persons getting these things do not (as far as I know) read this blog, so I hope it will be safe to show these things here), but I had obviously not planned these projects well enough. I couldn't finish any of the projects because of something I didn't have or ran out of. The black/white/red-stripy thing is going to be a cosmetics bag, I need a black zipper to finish it. Then the hearts in christmas fabric, I made five, but when I had stuffed two and a halv of them, I ran out of fiberfill. The purple pieces are going to be cases for crochet needles. I will also make matching needle books. But I need purple thread and two purple buttons to finish. I have to make a complete shopping list this time..