Mandag kveld slo det meg at jeg hadde avtalt å treffe to venninner på torsdag (i dag), og at jeg skyldte begge to bursdagsgaver. Så da kom jeg på at jeg kunne jo hekle Mary Jane tøfler til de (norsk oversettelse hos Hobbykroken, her), og jeg satte i gang med heklinga. Det går jo veldig fort unna når man setter seg ned, men jeg har vært så opptatt de siste dagene, så jeg har egentlig ikke hatt tid. Det resulterte i at jeg satt oppe og hekla til klokka ett i natt, og enda mangler jeg reimer på det ene paret, de skal jeg hekle litt seinere i dag. Jeg synes tøflene blir veldig søte, så jeg håper mottakerne blir fornøyde også. Disse er heklet i Cortina fra Gjestal på nål nr 7.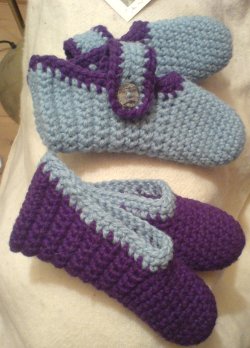 Og siden jeg første hadde begynt på hjemmelagde gaver så måtte jeg jo lage kort til også. Kom over en link på Hobbyforum til en side der det er samlet gamle kort og bilder. Jeg printa ut to av bildene, limte de på tykkere papir, og pynta med glitterlim rundt. Superenkelt.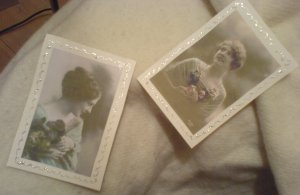 Slippers and cards
Today I'm meeting two friends of mine, and on monday I remembered that both of them has had birthday since last time we met, so I needed birthday presents. I desided to make a pair of Mary Jane slippers for each of them. The slippers are very fast and easy to make, but I have been so busy lately so I ended up crocheting until 1.00 am last night. (And I still have to make straps for the purple pair). I really like the shape of these slippers, so I hope that my friends also like them:-) Since I had started to make presents instead of buying something, I also had to make greeting cards. I found this page where old photos and postcards are collected. I just printed out two of the photos, glued them onto thicker paper, and decorated with glitter glue, very easy.