Noen husker kanskje denne votten som jeg strikka på i januar? Den ser jo fin ut for seg selv, men hånda mi ved siden av votten får ikke plass inni votten. Jeg merka jo forsåvidt at den var (for) trang når jeg strikka den, men jeg levde i en slags illusjon om at det sikkert ville gå seg til (naiv). Det begynner å gå mot vinter igjen og jeg har fortsatt et ønske om å gå med fine selbuvotter når kulda kommer, så nå skal votten rekkes opp til vrangborden, og så skal jeg gjøre et nytt forsøk med pinner nr 2.5 istedet for 2.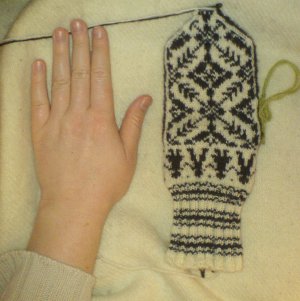 Jeg har også fått fart på bunadsbroderinga igjen. Selv om det kommer til å ta laaang tid før den er ferdig gleder jeg meg til å en gang skulle ta den i bruk. Dessuten kjenner jeg flere andre som holder på å brodere samme bunad, ei av de har sin egen blogg her. Det er spennende å følge med på framgangen hennes, og så blir jeg så motivert til å brodere på min egen stakk når jeg ser sånne fine nærbilder av broderinga. Jeg holder fortsatt på med den nederste kanten, men håper jeg skal bli ferdig med den om ikke så lenge sånn at jeg kan begynne på de mer spennende mønsterdelene.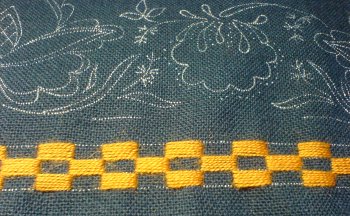 Some of you might remember that I was knitting on this mitten with traditional norwegian pattern in january? Well, it turned out that it really doesn't fit my hand (as you can see on the photo). I tried it on while I was knitting, and I noticed that it was a bit tight, but I had this silly hope that it would fit when it was finished. It of course didn't fit, so now I will frog it, and try again with larger needles.
I also started to embroider on my national costume again. I'm still working on the squares, but I hope I soon will be finished with the squares so I can move on to the more challenging parts. A friend of mine is making the same costume as I am, and she has her own blog here where you can see nice closeups of the embroidery.
I guess this was a very norwegian post with traditional norwegian mittens and national costume, but I really like these traditional things.