Vi var hjemme hos mamma og pappa i helga. I sommer har de rydda flittig i bodene i kjelleren, og nå ville mamma bli kvitt mest mulig av mine ting fra hyllene. Så jeg fikk tilbake ting jeg har savnet som det har vært umulig å finne igjen i eskekaoset i kjelleren, og i tillegg noen stoffbiter fra mammas stofflager.
Det jeg har savnet aller mest av tingene jeg visste jeg var et sted i kjelleren, er "Håndarbeid for alle"-permene mine. Det er tre permer som tar for seg grunnleggende teknikker fra de fleste sjangre innen håndarbeid, og jeg har hentet mye inspirasjon fra de bøkene tidligere.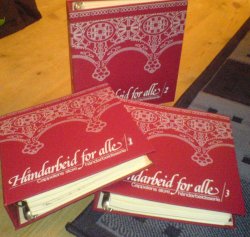 Og så kan jeg vise fram min eldste ufo. Dette lappeteppet begynte jeg på da jeg var 9 år og nettopp hadde lært å hekle. Det betyr at det er en ca 17 år gammel ufo, men til mitt forsvar så har den altså ligget i kjelleren hjemme de sju årene jeg har bodd hjemmefra.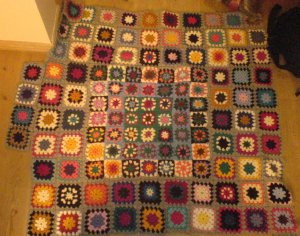 Til slutt et bilde av noen av stoffrestene jeg fikk med fra mammas stofflager, jeg sier jo aldri nei til å utvide stofflageret mitt:-)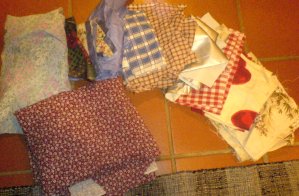 We were visiting my parents this weekend. They had tidied up in the storage rooms in the basement, and mom wanted me to bring back with me some of my stuff. (Since my two (teenage) sisters still live at home I guess my parents need all the storage space they can get). I got back the book series "Håndarbeid for alle", which explain the basic techniques of all kinds of needlecraft. I love these books, and they are not only explaining the techniques, but they also contain patterns and ideas on how to make your own patterns.
The afghan is my oldest UFO, I started to make this when I was nine and just had learned how to crochet, so that means that I've had this unfinished for 17 years!
I also got some fabrics from my mom's fabric supply, and I of course never say no when it comes to getting more fabrics.