Jeg har ligget litt etter med hakkelappene de siste månedene, men nå er juni- og julilappene ferdige, og tilsammen 24 lapper er unnagjort. Det betyr at teppet er halvveis!
Og hakkesjefen MarianneG har gitt oss denne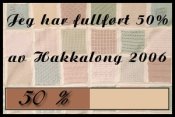 (Jeg har tenkt til å bruke de fire som skal være forsiden på en pute, og i tillegg lage noen ekstra lapper, sånn at jeg får en ekstra rad med lapper på selve teppet. Så da er jeg egentlig ikke halvveis riktig enda.)
Lappen som er øverst i haugen er den likte best av disse åtte (ja, kanksje til og med den jeg liker best av alle), den var veldig morsom å lage og er fin å se på.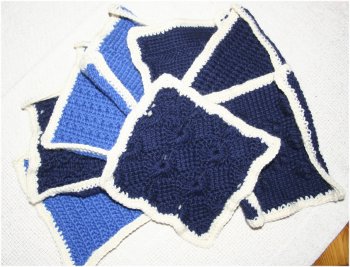 Til slutt vil jeg vise dere favorittstoffbiten min. Den bringer gode barndomsminner, jeg hadde sengesett i det stoffet, og stoffet ble senere gjenbrukt til lillesøsterene mine. Jeg må alltid se på det når jeg er innom stoffesken min, og jeg lurer stadig på hva jeg skal bruke det til, eller om jeg i det hele tatt tør å bruke det. Det er ikke store biten jeg har heller, ca 15 x 100 cm, så jeg har tenkt på å lage et etui til saks, målebånd, synåler osv som jeg aldri finner igjen fordi de ikke har noen fast plass. hvis noen ellers har noen gode forslag for hva det kan bli ut av denne biten vil jeg gjerne høre om det.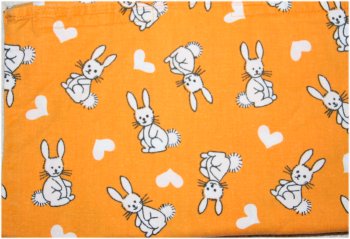 I have been a bit behind with the squares these two last months, but now they are finished, and I'm ready to start on those for august. The total number of finished squares is 24, so that is halfway for the afghan. (But I'm thinking about adding an extra row of squares so the afghan gets at bit bigger, if I have enough leftover yarn.) The top square on the photo is my favourite square so far, it was fun to make, and it looks nice.

The piece of fabric above is my favourite piece. It reminds me about my childhood, my mom made a bed sheet set for me, and later the fabric was reused for my little sisters. I always have to look at this fabric whenever I open the box with all my fabrics, and I'm thinking about what I can make from this small piece (ca 15 x 100 cm), or if a dare to use it at all. I've been thinking about making a case for scissor, needles, tape measure and other things I need, and which I never can find when I need them. If you have other ideas for using this piece of fabric, please let me know.