Jeg holdt på å lage bursdagskort til to nieser i helga, da jeg kom på at jeg skulle prøve å lage slike armbånd med navn på igjen. Jeg tok noen bilder mens armbåndene var under produksjon, og så har jeg klort ned noen ord på engelsk om hvordan jeg laget dem, i en pdf-fil her, hvis noen har lyst til å prøve. De er veldig enkle å lage, og de så ut til å falle i smak hos niesene mine ihvertfall:-)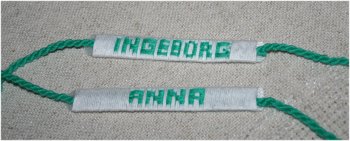 Og så er jeg nå klar for å begynne på the Great American Aran Afghan (GAAA), mønsterheftet kom fra play.com her om dagen. Nå vil nok noen spørre seg, holder ikke du på med et teppe? hvor mange tepper trenger du egentlig? Men GAAA er et sånt teppe man bare MÅ lage, det er bare helt nydelig, samtidig som det sikkert byr på morsomme utfordringer å strikke det. Men det kan være jeg lager en babyteppe-variant, der jeg bruker tynnere garn og lager et utvalg av rutene, så jeg ikke ender opp med enda et livstidsprosjekt.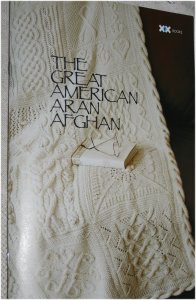 I was making birthday cards for two nieces this weekend, when I startet to think about some bracelets with names on, which I made many years ago. So I had to try if I still could make them, and made one for each niece, and included them in the cards. While I was making them I took some photos, and afterwards I wrote down some words about how I made them. So if you are interested in trying to make bracelets like these, there is a PDF-file with instructions here. They are very easy to make, and I think they will be popular gifts for children (and teenagers too, if one replaces the name with the favourite sport team or music band/artist).
The pattern book for the Great American Aran Afghan (GAAA) was in our mailbox last week. This is really an afghan which is impossible to resist, even though I'm currently working on an arghan, it is just too beautyful. But I think I will make a baby afghan instead, using thinner yarn and only make a selection of the squares.