Jeg har vel kanskje avslørt i tidligere poster at jeg har blitt litt hekta på japanske håndarbeidoppskrifter, spesielt sømoppskriftene, jeg liker stilen veldig godt. Så da yesasia satte grensen for å få gratis frakt ned til $25 bestilte jeg tre hefter. Desverre klarte de ikke å levere det ene heftet, fordi de ikke har ikke bøkene på lager selv. De må først skaffe bøker hos andre, for så å sende dem til mottaker. Så man må smøre seg med tålmodighet når man bestiller derfra, men når de først har fått inn bøkene går det raskt, postgangen tok seks arbeidsdager fra Hong Kong til Norge, og jeg er superfornøyd med disse to heftene. Det er så mye fint i den boka med vesker, så jeg skal teste ut noe derfra bare vi kommer i orden i vårt nye hjem.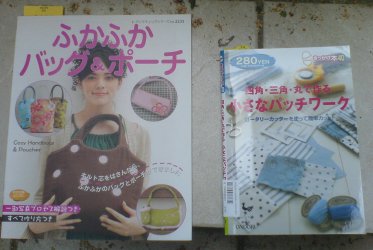 Japanese pattern books
I think I already have shown my enthusiasm for Japanese pattern in earlier postings, so when yesasia lowered the limit for free shipping down to $25 I desided to order some books. Unfortunately they were not able to deliver one of the books I ordered, but I am really pleased with the books I received. (They do not have many items in stock, but instead they have to get the items from other stores, and then send them to the reciever. So one has to be a bit patient when ordering from yesasia, but the shipping was very fast, it took 8 days from Hong Kong to Norway). There are so many nice patterns for bags and purses and I will try to make something from that book when we get settled in our new home.