I helga var jeg i utdrikningslaget til ei venninne som gifter seg om to uker, og en populær aktivitet som har vært med i de utdrikningslagene jeg har vært i (inkludert mitt eget) er at alle skal ha med en gave (uten kort) med et innhold som kan assosieres til deg, og den kommende bruden skal prøve å gjette hvem gaven er fra. Det var lett å gjette hvem som var giveren av gaven jeg hadde med, men jeg synes det var en koselig gave å gi til henne. Jeg hadde nemlig scanna mange bilder fra da bruden og jeg var på interrail sammen i tre uker, for fire år siden, som jeg satte sammen til et bilde på 20 x 30 cm. Så nå kan dere se de stedene jeg har besøk i Europa, jeg tror alle stedene vi var innom er representert.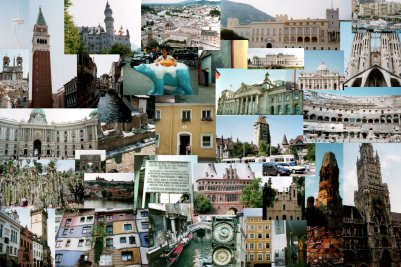 Present for a bachelorette party
A close friend of mine is getting married in two weeks, and this weekend there was a bachelorette party for her. A popular activity in these parties (at least the ones I have attended to) is that everyone has to bring a present where the content can be associated to you, and the bride's assignment is to guess whom the presents are from. My present wasn't hard to guess, but I think the present reminded her a lot about some nice memories we share. The bride and I were travelling in Europe by train, for three weeks, four years ago, so I scanned photos from the trip, and put them together so it became a photo of size 20 x 30 cm. So now you can see the places I have visited in Europe, I think all the places we visited are represented here.