Jeg er inne i en god trend med å teste ut nye sy-veiledninger for tida. Kom over denne bloggen, der det er "trinn for trinn"-forklaringer for å lage en sminkepung etter en oppskrift fra en japansk bok. Jeg har ikke boka, men det var fullt mulig å få til å lage sminkepungen allikevel. Den var morsom og lett å sy og jeg er godt fornøyd med resultatet, selv om stoffet ikke er det mest spennende, jeg har i grunnen bare kjedelige stoffer:-)
Kanskje jeg skal prøve å lage en i toalettmappestørrelse også, men da burde den ha vært i et mer vanntett stoff, voksduk hadde kanskje funka fint?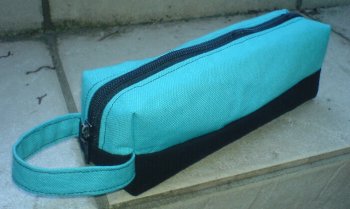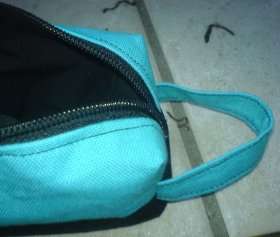 Cosmetic bag
I discover new blogs and new tutorials all the time, and this time I found this blog, with a tutorial on how to make this cosmetic bag from a pattern in a Japanese craftbook. It was easy to follow the tutorial and I liked the result, but the fabrics I used are not among the most interesting, apparently I have only boring fabrics:-)
Perhaps I will try to make a larger version too, a toilet bag, but then I probably should use waterproof fabric, and I want to have pockets on the inside.