Jeg har tydeligvis fått "bare må lage japanske sminkepunger"-syndromet, så her er en ny en. Man kan jo spørre seg hva jeg skal med alle disse smikepungene, spesielt tatt i betraktning at sminkebruken min er svært moderat, men jeg tror nok denne ender som bursdagsgave. Oppskriften fins her, og det veldig fascinerende at det er fullt mulig å følge en japansk oppskrift uten å kunne et eneste japansk tegn. De er flinke til å ha mange bilder eller tegninger i oppskriftene sine. Hvis du vil få mer japansk inspirasjon er dette et godt sted å begynne.
For de som savner å se ting som er strikket eller heklet her, så kan jeg berolige med at det er aktivitet med strikkepinner og heklenåler, så det kommer forhåpentligvis snart noe å vise fram på den fronten også.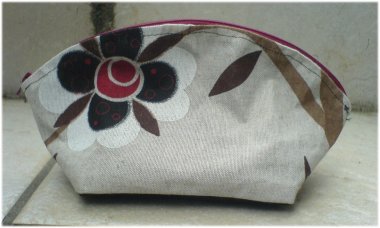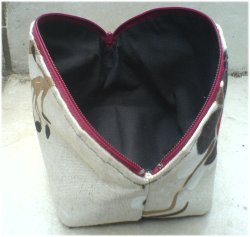 Yet another cosmetic bag
I just have to make Japanese cosmetic bags these days, so here is another one. The pattern can be found here, and it is amazing that one can make something from a Japanese pattern without knowing any Japanese, but they have many photos or drawings in their patterns. If you are looking for more Japanese inspiration then this site is a good place to start. This cosmetic bag will be a birthday present, I hardly use any makeup myself so I need a quite limited number of bags like this:-)
I haven't given up on knitting and crocheting, so there will soon come some things made of yarn in the blog too.