Det er travle tider hos oss nå. Det er sommeravslutninger, bryllup og bursdager jevnt fordelt, så alle helger og mange kvelder er fyllt opp fram til august. I tillegg skal vi flytte neste måned, så om jeg har lite tid til håndarbeid nå, kommer det til å bli verre:-) Men noen få runder på et strikke- eller hekletøy om kvelden blir det nok allikevel.
Denne helga begynte jeg på ett nytt prosjekt som jeg har hatt garnet liggende klart til ganske lenge. Er det noen som kan gjette hva det skal bli? (Hint: Jeg har laget noe som tilhører dette, for mange måneder siden).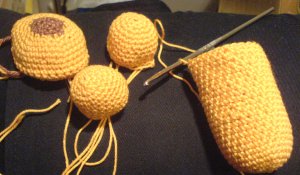 Det jobbes også parallelt med hakkelapper og den siste sokken april-mai-paret fra Six Sox.

A quick update
My life is quite busy at the moment. All our weekends and many evenings until August are filled up with birthday parties, weddings and other summer parties, so there isn't much time left for crafting these days. We are also moving next month, so then we get even more busy. But I will manage to knit or crochet a few minutes in the evening anyway.
Here is my newest project. Can you guess what it is? (Hint: I made something that belongs to this project, many months ago.)
I'm also working on the last sock of the Six Sox socs for April and May, and this month's squares for the afghan.