Helt siden jeg kom over alle disse "trinn for trinn"-forklaringene (i skrivende stund virker ikke linken, hele forumet til crafster er nede) for å lage vesker og punger har jeg hatt lyst til å prøve meg på en av veskene der. Så i går satte jeg i gang med Jordy's bag. Min er litt større enn de målene hun oppgir, mine sidestykker er 28 x 35 cm, med et kvadrat på 5 x 5 cm kuttet ut i hjørnene, og hanken er 62 cm lang. Jeg ble ganske fornøyd med resultatet, synes det var greit til å være første veske jeg har sydd siden det obligatoriske nettet med lomme og applikasjon i 6. klasse. Forklaringen var lett å følge og det var morsomt å se at det ble en veske til slutt, og at sømmer og alt stemte.
Det eneste jeg ikke er helt fornøyd med er at den ble litt slaskete. Jeg tenkte ikke over det før jeg puttet ting oppi og prøvde å gå rundt med den over skulderen. Jeg tror det er hanken som gjør at det blir sånn, hvis det hadde vært en hank på hver side så blir sidestykkene holdt oppe i riktig retning, mens denne "tvers over"-hanken får sidestykkene til å bule utover og bunnen bøyes oppover. Så jeg burde ha brukt enda stivere stoff, eller strøket vliselin på baksiden av ytterlaget. (Jeg har bare meg selv å skylde på her, Jordy bruker vliselin i veiledningen) . Men det jeg skal gjøre nå er å ordne en papplate, trukket med forstoffet, som kan ligge i bunnen, jeg tror det også vil hjelpe på for at den skal holde fasongen bedre. Man gjør seg erfaringer hele tiden… Men dette blir nok ikke den siste veska jeg syr, det er flere andre vesker jeg kunne tenke meg å teste ut.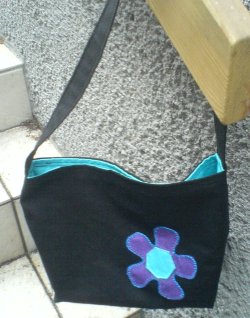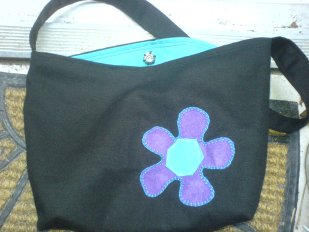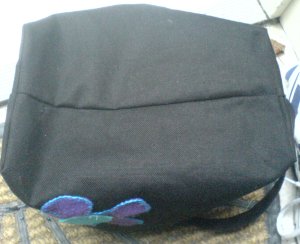 Ever since I came across this great list of tutorials on how to make bag, purses and wallets, I have wanted to try out some of the bag tutorials (I have already tried out two of the wallets tutorials). So yesterday I made this bag, which is "Jordy's bag", and I am quite happy with how it turned out. The tutorial was easy to follow, and it was fun to see that it actually turned out to be a bag at the end. My bag is a bit bigger than Jordy's in the tutorial, the side pieces measure 35 x 28 cm, with squares of 5 x 5 cm cut out, and the length of the handle is 62 cm.
The only thing which I'm not totally pleased with is shape of the bag when I put things inside, it gets at bit bumpy. So I should have used even more stiffer fabric or iron on interfacing (I can only blame myself, Jordy is using interfacing in her tutorial). I believe it is the handle that disturbs the shape, if the bag have had handles on each side, the sides would have been kept in the right direction, this handle across makes the sides to bend outwards, and the bottom to bend upwards instead of staying flat. But I will find some cardboard to put at the bottom of a bag, and make a pocket with the linning fabric to put the cardboard in, I think that will help on the shape. It is actually nice to make experiences like this so I know what I should be concerned with the next time a make a bag. I'm sure that this is not the last bag, there are several other bags in the tutorial list I would like to make.