Å lage nåleputer er ganske populært i bloggverden for tida, og det mange steder å finne inpirasjon, f.eks her og her. Jeg ble selvfølgelig bitt av basillen, og her er min utgave. Den er ganske stor, sirklene som danner topp- og bunnflaten er like store som CD-plater, og remsa mellom sirklene er 4 cm bredt. Blomsten er den samme som på veska i forrige post, jeg begynte å sy nåleputa først, og oppdaget at blomsten kunne passe som pynt på veska også:-) Det er morsomt å sy i filt, så det er fare for at det kommer flere saker her laget i det materialet.
God helg til alle som er innom!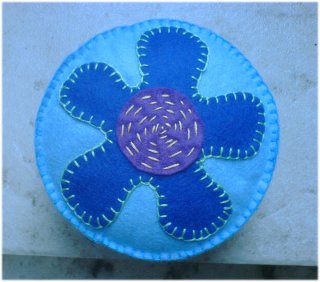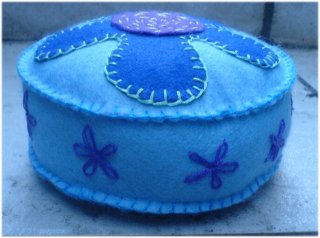 Pincushion
It is popular to make pincushion these day, and there are so many nice pincushions out there to admire and get inspired by, for instance here and here. Of course I had to make my own, so here is my version. The pincushion is quite large, the circles are same size as CD's, and the part between the circles is 4 cm high. The flower on the top is the same as on the bag from my last post, I started on the pincushion first, and when I was making the bag I came to think that the flower perhaps would look nice on the bag too. It is very nice to work with felt, so I am sure I will make other things in felt too.
I wish you all a nice weekend!