Da var påska over så alt for fort, kunne vært fint med noen fridager til. Tida etter påske har jeg brukt på å være forkjøla, så det har ikke blitt alt for mye håndarbeid i det siste. Jeg satser på å komme sterkere tilbake når jeg er kvitt forkjølelsen.
Jeg begynte på "6 sox"-sokkene i påsken, skal begynne med hælen på den første sokken nå. Mønsteret er en variant av ribbestrikk, blant annet strikkes første og siste maske i rettmaskesøylene i bakre maskeledd, så ribbene får en tydelig kant. Multifarget garn var kanskje ikke det beste garnet med tanke på at mønsteret skal synes mest mulig, men jeg ville strikke av noe annet en vanlig ensfarga for en gangs skyld.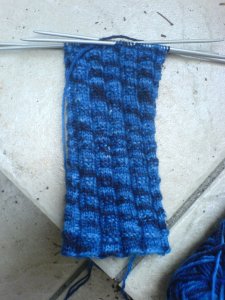 Hakkelappene ble også ferdige i løpet av påsken, det gikk fort unna egentlig. Blir mer morsomt nå som alle lappene har mønster og ikke bare er av den samme masketypen.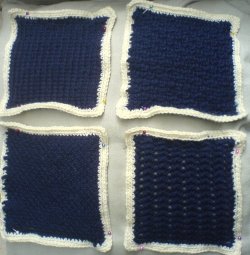 I vinduskarmen spirer paprikaene. Jeg er med på paprika-plantalongen her:



Målet er å se om de kan bli så store at det faktisk kan høstes paprika av de. Jeg må si jeg har min tvil til at det skjer her inne i sokkeleiligheten vår, men så trodde jeg vel heller ikke at fjorårets solsikker skulle bli over to meter her inne.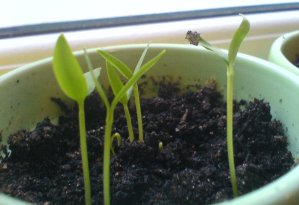 The Easter has disappeared, the holiday could have lasted a bit longer if you ask me. And the days after Easter I have had a cold, so it hasn't been much crafting here lately, it isn't easy to do anything at all with a runny nose.
But during the Easter I started on the april socks in the "6 sox"-kal. The pattern is a variation of the usual ribbing, one of the changes is that the first and last knit stitch of each knit row is knitted through the back loop. The pattern is nice, but that isn't easy to see with my multicolored yarn. It would have been better with a single colored yarn, but this time I wanted to try out some multicolored.
This month' s squares for the afghan are finished. They were fast and easy to make. This is the first month were all the squares use several different stitches, not just the same stitch throughout the square, so it is even more fun to make them.
I joined this paprika-plant-along, and a couple of weeks before Easter I sowed the paprika seeds. Now there are really happening things here. The plants are very fast growing, I can see the difference over just one night.