Etter at jeg ble så ivrig på å sy igjen, oppdaga jeg at det egentlig var dårlig med system i sysakene mine. Så det første som har fått et nytt og godt hjem er sytråden min. Oppskriften er som følger: Spis opp en stor eske "after eight" (denne esken fikk vi til jul så den var jo tom for lengst), sprett opp liminga til ytterhylsteret, vreng og lim sammen igjen så den hvite siden vender ut. Finn fram en møbelkatalog, klipp ut fine bilder fra katalogen, lim på esken og lakk med decoupagelakk til slutt. Esken passa helt perfekt til trådsnellene, Gütermanns trådsneller får akkurat plass i høyden. Så var det bare å finne esker til de andre småsakene da:-)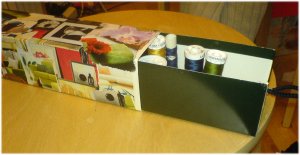 Ønsker alle som er innom en riktig god helg! Selv skal jeg og min kjære være barnevakter i mårra og på lørdag, men jeg skal vel få strikka litt samtidig tror jeg.

My recently growing interest for sewing made me realise that my sewing equipment was totally unorganized. My first effort to do something about that was to decorate this box, which the sewing thread spools fit perfectly into. The box was some time ago filled with delicious "after eight"-chocolate, now it is decorated with pictures from a catalog from a furniture company, with coats of decoupage glue on top. Now I have to find boxes for the rest of the stuff:-)

I wish you all a very nice weekend! My husband and I are baby-sitting tomorrow and Saturday, but I think I will have time to do some knitting while we're baby-sitting.