I begynnelsen av mars hadde jeg en nokså frisk liste over alt jeg skulle rekke i løpet av måneden, men hvordan gikk det nå egentlig med denne lista?
1) Strikke høne med kyllinger fra krympboka Ferdig!
2) Hakke fire nye lapper i Hakkalongen Ferdig!
3) Strikke ferdig turtleneck shrug fra Scarf Style Nesten ferdig med en arm
4) Strikke ferdig en liten venn… Dette var Kate som er ferdig!
5) Strikke sokkene i Six Sox Rakk aldri å begynne på disse…
6) Strikke på Linux-skjerfet Har jeg strikket på dette i det hele tatt denne måneden?
Det var bare halvparten som var gjort her gitt… Men jeg ble jo så ivrig med symaskina denne måneden, så det ble laget en del uforutsette ting også:-) Det er egentlig veldig gøy å sy!
Den siste kyllingen fra Krymp og den siste hakkelappen i hakkalongen ble ferdig sent i går kveld. Krymphøna har knapper bak, og er fyllt med tørka erter, som er inne i en stoffpose, i bunnen. Så høna står støtt som et fjell. Synes høna og kyllingene ble ganske morsomme, så jeg angrer nesten litt på at dette ender som bursdagsgave. Men jeg kan jo alltids strikke til meg selv til neste påske.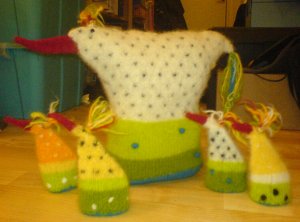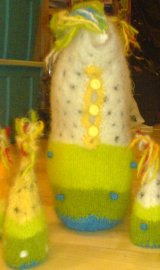 Den første hakkelappen denne måneden (øverst til venstre) var ganske vrien, så det var den jeg ble sist ferdig med, og jeg skal prøve å holde meg unna "twisted purl" i framtidige hakkeprosjekter:-). Men de andre lappene var veldig morsomme å lage, så jeg gleder meg til april-lappene.

At the beginning of this month I made a list of all the things I would like to finish during this month, and here is how it went:
1) Knit (and felt) hen with chickens from the book Krymp! Done!
2) Make four new squares for the afghan in tunisan crochet Done!
3) Finish the turtleneck shrug from Scarf Style I have almost finished one arm
4) Finish a little pal… This was Kate, which is finished!
5) Knit the socks from the 6 Sox-kal I never got started on these…
6) Finish the linux scarf Did I knit on this scarf at all this month?
Only one half of the things on the list has been finished, but I had so much fun with the sewing machine this month. Sewing is really fun!
Last evening I finished the hen with chickens, and the four squares of the month for the afghan.
I'm quite happy with the hen and the chickens, they are fun and colorful. I almost regret that I decided that they will be given away as a birthday present, but I can always make new ones for myself before next Easter. The hen has buttons at the back, so one could hide easter candy or something else in her, but this hen is stuffed with fiberfill and a bag with dried peas at the bottom. The peas make sure that the hen is standing still, and not easily falls on the side.
I'm already looking forward to making the next squares of the afghan. The first one this month (upper left on the photo) was very annoying, it was difficult to pick up the right strand for each stitch, and get the right twist on it, so I will keep away from twisted purl stiches in future tunsian crocheting. (But it is of course nice to have a square with these stitches in this afghan of stitch samples). The rest of the squares was easy and fun to make.