Jeg rakk å få dratt fram symaskina denne helga også. Jeg sydde noen flere av de pungene/mappene med knapp (sånn bortsett fra at jeg mangler knapper, må visst ut å kjøpe noen:-), de er litt større enn den jeg sydde forrige helg så jeg tror de passer fint som f.eks sminkepung til å ha i veska. Jeg sydde også et Tilda-hjerte (skulle egentlig sy flere men plutselig var det "Med hjarte på rette staden" på tv og det kunne jeg jo ikke gå glipp av…), kjekt med sånne småting som blir til koselige gaver, så jeg tenkte jeg skulle sy opp litt sånt.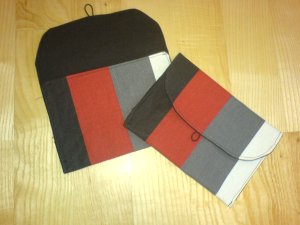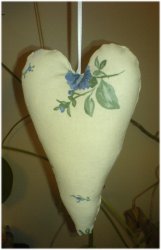 Jeg har også strikka videre på krympkyllinger og hakket på månedens lapper i hakkalongen. Det er mye prøving for å finne ut hvilket program på vaskemaskina jeg skal bruke for å tove kyllingene, har nok kommet til at jeg uansett må kjøre de to ganger hvis jeg skal holde meg til 40-gradersprogrammene.
Den første av månedens hakkelapper er skikkelig slitsom, jeg har kommet kanskje en tredjedel på vei med den, men i stedet har jeg snart gjort ferdig to av de andre lappene. Må nok bite tenna sammen for å få ferdig den trassige lappen før 1. april.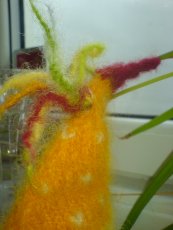 I made some stuff with the sewing machine this weekend also. Two more wallets, larger than the one from last week, so they should be big enough for keeping makeup or other things that usually flow around in the handbag. I also made a heart, I was going to make more hearts, but then there was time for Heartbeat on TV which I couldn't miss out on. Both the wallets and the heart will be nice gifts, so I will sew some more of these, good to have things like this stored when one needs a present to give away in short notice.
I have also done some knitting on the felted hen with chickens, three of four chickens are now finished, but I have some trouble deciding which program on the washing machine I should use for the felting.
And this month's squares of the afghan in tunisan crochet are under production, I have soon finished two of them, picture will come when they all are finished.