Jeg ble så inspirert av denne linken, som jeg fant i ohelenes blogg, med mange trinn-for-trinn-forklaringer for å sy ulike vesker og punger. For en uerfaren syer som meg så er det supert med slike forklaringer, for det jeg synes er vanskelig med å sy akkurat vesker og punger er å tenke ut hvordan de ulike delene bør sys sammen for at resultatet skal bli penest, det å skjule sømmer og å få sydd i glidelåser pent, og i denne linken var det mange tips å hente.

Jeg prøvde meg på noen av pungene det var forklaringer på. Ble selv mest fornøyd med den i lysebrun kord (en gammel bukse som kommer til nytte igjen). Det blomstrete stofffet var helt håpløst å sy av, stoffet er litt for løst vevd for dette formålet så sømmen skled veldig lett ut, ellers likte jeg også godt konseptet med den pungen med knapp (når man ser bort fra den ikke så helt jevne sømmen:-) )

Jeg hadde også en del andre ting jeg ville sy, men selvfølgelig måtte jeg gå tom for hvit tråd da jeg sydde strikkepinneetuiet, så prosjektene som krever hvit tråd ble satt på vent. Kanskje jeg rekker å få sydd litt neste helg også?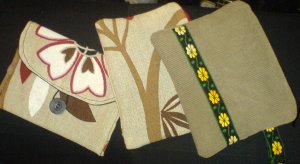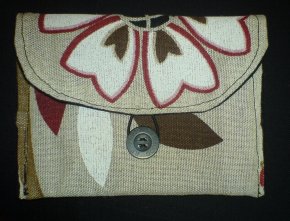 Some other projects with the sewing machine

I also got to do some sewing yesterday when I tested out some of the tutorials from this page. A very useful page for an unexperienced sewer as myself, here one gets very useful tips on how to sew the zipper, in which order the different parts of a purse, bag or wallet should be sewn together to make a good result, all these things I find difficult to figure out by my own. I like the zippered pouch in light brown best, it turned out (almost) as I had planned. I also liked the idea for the wallet with the button, but the fabric I used here was very difficult to handle. The fabric is very loosely woven, so it tended to slip from the seam (this was not easy to explain in English, I hope you understand what I mean:-), and the seam on this one is anyway not the prettiest.

I also had planned for some other projects, but of course I had to run out of white thread when I made the needle case, so all I had planned with white seams has to wait.