Jeg er med på ufo-måneden på Hobbyforum, og en av ufoene jeg innser at jeg snart kan bli ferdig med (etter å ha nistrikka på den i helga) er denne boleroen (Rachels bolero) som jeg starta på for mange måneder siden. Den vokser jo uhyre fort på sin pinne nr 9, når jeg først setter i gang å strikke på den. Det er det å sette i gang som er problemet, mønsteret 2 rett 2 vrang er ikke så spennende i lengden, og hele strikketøyet er så stort å sitte med i fanget. Men jeg gleder meg til å bli ferdig med den så jeg kan få brukt den.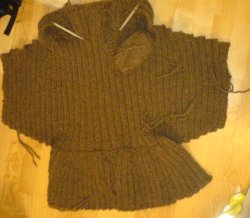 Selbuvottene vil jeg ikke snakke om akkurat for øyeblikket… Det viste seg nemlig at de blir for små til hendene mine… Jeg prøvde jo selvsagt votten underveis, og den var litt trang, men jeg tenkte at det går seg nok til (optimist:-). Det var først når jeg begynte på fellinga at jeg innså at den kom til å bli alt for kort også. Så nå befinner votten seg i posen sin mens jeg manner meg opp til å rekke den opp til vrangborden og prøve igjen med 2.5 mm:-(

Jeg har fått hakka litt også, har begynt på den tredje lappen, men jeg må snart ut å kjøpe garn til kanten som skal være rundt lappene.

My main project now is to finish a ufo, this bolero I started many months ago. I am really looking forward to wear it, the reason that it has taken so long time is that I get at bit bored just knitting a very large piece with the pattern 2 knit 2 purl..

I have also finished another square for the afghan, and started on the third square.