Da var månedens fire lapper ferdige, jeg gleder meg allerede til å begynne på de fire neste.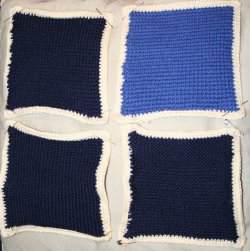 I helga skal jeg gjøre en siste innsats for "Bli ferdig"-måneden på Hobbyforum. Det stoppa litt opp med ufoene etter at jeg ble ferdig med boleroen, men jeg skal prøve å komme litt videre på Linux-skjerfet, Eivind gleder seg sånn til å få bruke det.

I've finished the first four squares of the afghan, tunisian crochet is fun! I'm really looking forward to start on the next squares.

The progression on my ufos stopped when I finished the bolero, but I will try to something about that during the weekend. My husband wants to get to wear his Linux scarf, but the scarf is very slow to knit, one row in the diagram of the pattern equals four rows of knitting.